Dental Implants – Pinehurst, NC
The Best Modern Solution
for Tooth Loss
Both bridges and dentures can let a patient with missing teeth enjoy a more varied diet and speak clearly again. However, dental implants are in a class of their own when it comes to tooth replacement. The benefits that they offer make them the next best thing to having your original teeth back. Dr. Hudson works with some of the best specialists in the area and can work alongside them to make your smile whole again. Call us today to set up an implant consultation.
Why Choose Olmsted Village Dental Care for Dental Implants?
Partnered with the Area's Best Implant Experts
A Team That Treats
You Like Family
Highly Experienced
Dental Team
What are
Dental Implants?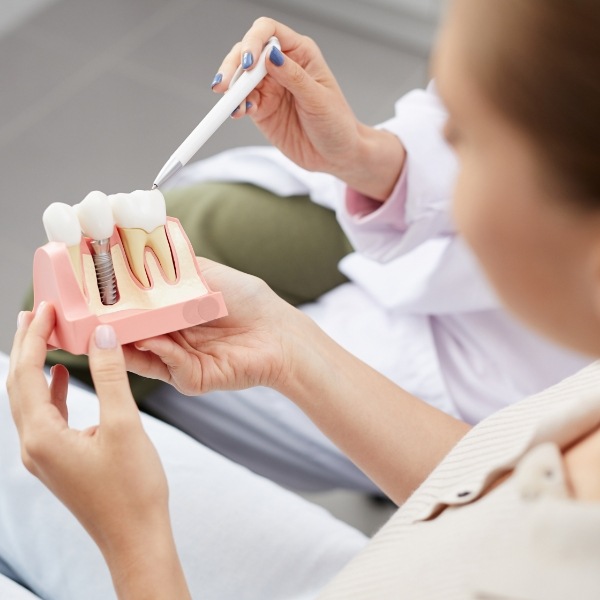 Dental implants are special screw-like posts that are designed to be placed in the jaw. They are made from titanium or another biocompatible material that can fuse with the bone tissue via osseointegration. Once dental implants have joined with your jaw this way, they can keep the jawbone stimulated through biting and chewing, and they can keep your new teeth firmly in place at all times. You can get one or multiple implant posts depending on how many teeth you need to replace.
The 4-Step Dental Implant Process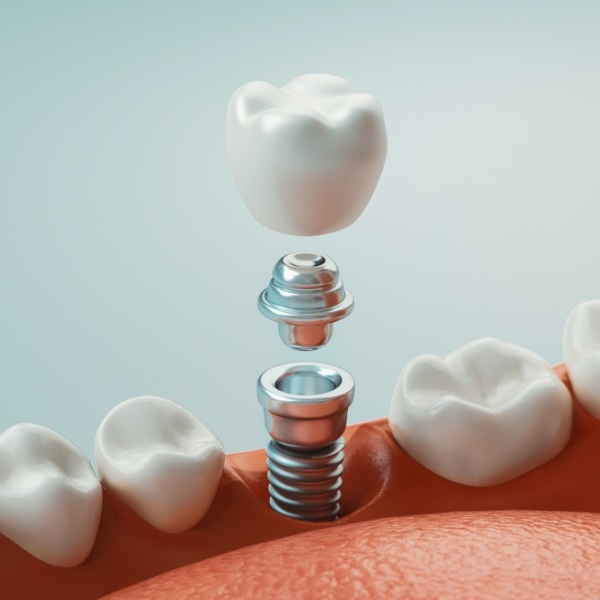 The dental implant process can certainly seem more complex and time-consuming than other procedures, but the beautiful, long-lasting results make it all worth it. The procedure can be broken down into four main phases:
First, you need to schedule a consultation to confirm dental implants can be used in your case. Sometimes bone grafts or other treatments need to be performed first.
The second step is implant surgery. We will refer you to a local specialist for this step; this team-based approach will ensure you will have someone you can trust to complete the procedure by your side.
You'll have to wait a few months for osseointegration to take place before you can receive an abutment.
The final step, which we can handle in-house, is the delivery and placement of dental implant restorations.
Benefits of
Dental Implants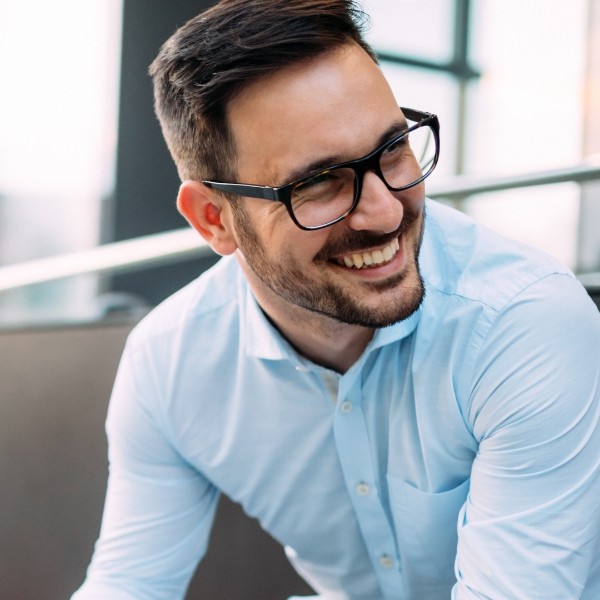 Versatile: You can use implants to replace any number of teeth.
Improved Appearance and Comfort: Your teeth will look and feel like the real things.
Stability: Dental implants stay firmly grounded in the jawbone at all times.
Jaw Strength: Implants stimulate the jaw and keep it healthy.
Improved Chewing: You can eat all your favorite foods with ease thanks to dental implants.
Long Lifespan: Dental implants can last for more than 30 years, and they only require simple maintenance in the meantime.
Who Dental Implants Can Help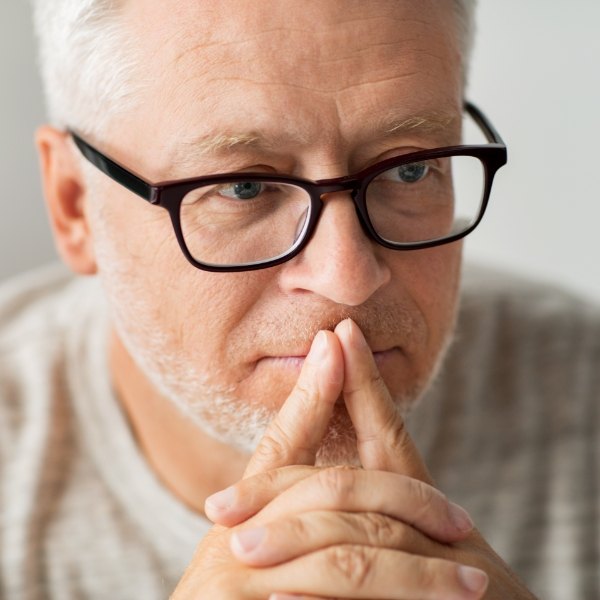 Not everyone is qualified for dental implant treatment. You need a jawbone that's capable of supporting the implant, and your gums need to be free of infection. We can determine whether you meet the requirements for dental implants during a brief consultation. Then, once we've determined that you can move forward with the process, we can recommend a specific number of implants and a restoration to replace the necessary number of teeth.
Missing Single Tooth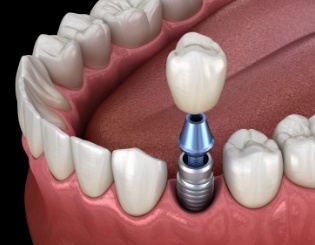 A crown can be used to replace a single tooth if it uses a dental implant for support. This approach can be considered an alternative to traditional bridges that would require us to make alterations to your natural teeth. We can make a crown for your implants in just one day thanks to our CEREC® system.
Missing Multiple Teeth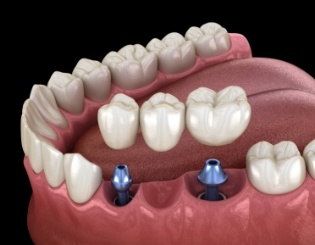 When replacing multiple teeth with implants, some strategy is used to minimize the number of implant posts required. Two dental implants and a bridge can replace three or more teeth in a row. A partial denture can be anchored to two or more implants depending on the extent of tooth loss.
Missing All of Your Teeth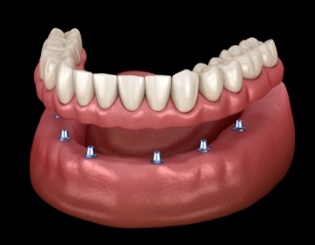 If you need a full denture, we may recommend getting dental implants to hold it in place. That way, your new teeth will always remain anchored in place, and you'll be able to eat virtually anything you want. You can also take care of implant dentures in much the same way you would take care of real teeth.
Understanding the Cost of Dental Implants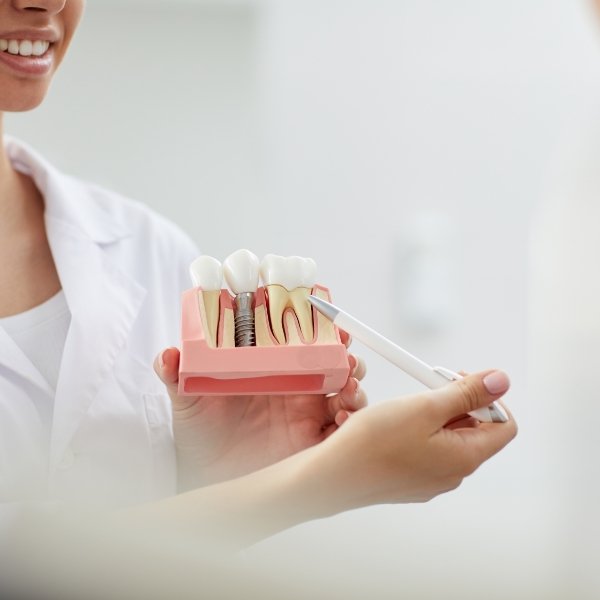 The answer you probably want to have answered before moving forward with dental implants is, "How much will it cost?" The number of implants, the type of restoration, and several other variables can affect the amount you end up paying. The benefits you enjoy will make the additional cost of dental implants well-worth it, as their long lifespan means that you won't have to buy replacements every few years unlike with regular bridges and dentures.